PROCESSING OF TOBACCO LEAVES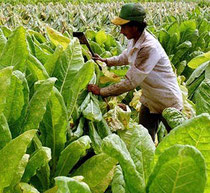 The most commun types of tobacco classifications are:
according to the curing process that leaves are treated after harvest .  
Curing of tobacco is a process by which the harvested leaves are made ready for marketing.
In more technical terms it may be stated that curing is a process of drying , decomposition of chlorophyll until the green colour disappears from the harvested leaves, hydrolysis of starch into sugars and respiration or fermentation of sugars there after.  
In curing the mineral salts also crystallize out producing the grain of the leaves.
The sole object of curing is to dry the green leaf in such a way that the final result has the required colour, texture and aroma.
Thus curing is probably the most important operation in the production of tobacco and the method and efficiency of curing determines, to a large extent , the quality of the product.